"Forget all you know, or think you know..."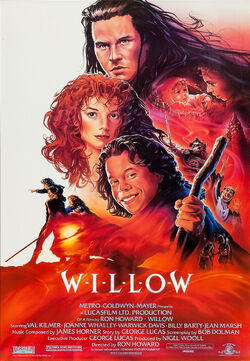 The adventures of Willow Ufgood began with the 1988 fantasy film Willow, directed by Ron Howard, from a story created by George Lucas.
Warwick Davis stars as as the titular hero, a kind Nelwyn farmer who finds an infant girl, Elora Danan, a child prophesied to end the reign of Bavmorda, the evil queen.
The film also stars Val Kilmer as swashbuckling swordsman Madmartigan, and Joanne Whalley as Princess Sorsha.
The Willow universe includes a novelization of the film written by Wayland Drew, and the Chronicles of the Shadow War book trilogy featuring Elora Danan as the protagonist.
Willow, the sequel series, will stream on Disney+ in beginning November 30, 2022.
Film characters
Books
About Willow Wiki
Willow Wiki is an encyclopedic resource, edited by members of the Fandom creator community, dedicated to building a comprehensive fan reference for the imagined world of Willow.
Join the Willow Community on Fandom
Want to contribute? You're welcome to edit the Willow Wiki at any time. For the best editing experience, we recommend that you create a Fandom account.
Willow Twitter
Explore the World of Willow
Characters | Species | Locations | Miscellaneous