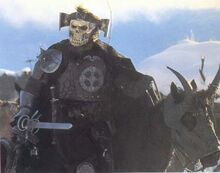 Patrick "Pat" Roach (1937-2004) was an English actor and wrestler who portrayed General Kael in the 1988 fantasy movie Willow.
Roach also portrayed several characters in Indiana Jones, another Lucasfilm production, such as the Giant Sherpa and the muscular German mechanic in Raiders of the Lost Ark, the Gong Striker in Club Obi Wan, the Thuggee Assasin and the huge Thuggee Chief Guard in The Temple of Doom, and the black-coated Gestapo Agent in The Last Crusade.
Despite requests to the contrary, due to insurance reasons Roach's stunts in Willow were performed by Greg Powell, who also served onset as the film team's horsemaster.
External links
Edit
Community content is available under
CC-BY-SA
unless otherwise noted.