"A saw-toothed range of mountains, arranged in tiers like the teeth of a great shark, surrounding a valley cast in the shape of a dagger. A long-extinct volcano forms the pommel of the knife and from its flanks grows a fortress, the oldest on the world, and the most accursed."
—Elora Danan, in Shadow Star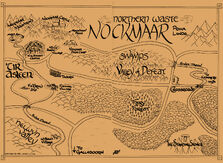 Nockmaar was a Daikini kingdom established by the Demon Queen Bavmorda during the Time of Whispers. Initially, Bavmorda was the queen consort of Tir Asleen, but she drained the resources of her husband's kingdom to construct the volcanic fortress in the Nockmaar Valley and create a realm of her own. With Bavmorda's arrival, Nockmaar was transformed from a forested wilderness into a war machine.[1]
Appearances
Sources
Notes and references