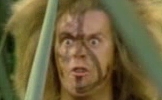 Franjean is one of Cherlindrea's Brownies. Cherlindrea puts him in charge of the mission of taking Elora Danan to Tir Asleen and for that end he took Canterfree and stole the baby from Madmartigan.
Franjean then joins Willow Ufgood and bosses fellow Brownie Rool around during their mission. Franjean is entrusted with a vial of "Dust of Broken Heart" that Rool mischeivously tries to take from Franjean to use on a cute girl at the tavern. Rool accidentally spills it on himself and falls in love with a nearby cat.
While following Willow in his travels investigating the Cataclysm, Franjean became a narcissus, wearing impeccable outfits of various designs that always seemed new, tailored from things he found in the middle of nowhere.
Community content is available under
CC-BY-SA
unless otherwise noted.